Planning a STAYCATION  for this upcoming long weekend? Check out all these fun things happening in and around the city that will make your Calgary long weekend the best it can be!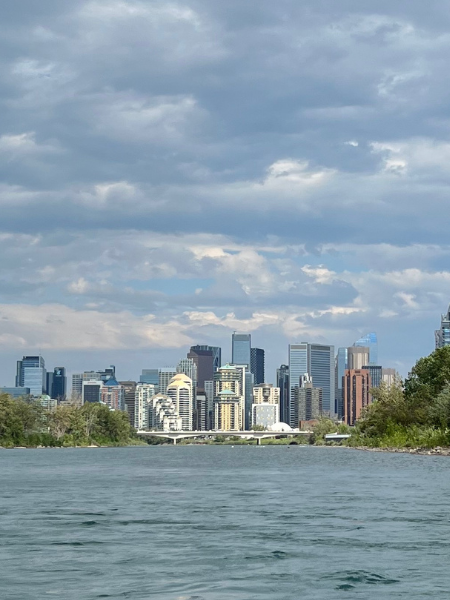 1- Taste of Calgary

 Hit up the parking lot at 311 8th street SW and discover the best eats from tons of top restaurants in Calgary.  It's an opportunity to taste test all those places you've been meaning to try.  Admission is free but virtual tickets are $1 a piece and each dish will range from 2-7 tickets.  It's the perfect event for a Saturday afternoon stroll.
2- Bow River Float  Get your raft on and enjoy the beauty of the Bow. 
Don't have a raft? No problem!  Lazy Day Raft Rentals can hook you up with everything you need at a reasonable price, they even have a shuttle.  Order online and meet them at the departure or take the shuttle from the drop off point.  They have life jackets and set you up for the most successful stress free float on the Bow. This photo is a view from my lazy day raft rental from the middle of the river approaching the downtown.
3-Heritage Park Night Market 

You may have been to Heritage Park but have you checked out the night market?  Every Saturday from 3-9, local vendors take over the parking lot to sell you some amazing products.  Admission is free!
4-Go for a walk

 Enjoy the numerous parks and pathways throughout the city. Places like Prince's Island Park, Nose Hill Park, and Fish Creek Provincial Park offer scenic landscapes, hiking trails, picnic spots, and recreational activities.
5-Urban hike
Have you been to Edworthy park's Douglas Fir Trail?  This family-friendly trail weaves through the forest along the southern edge of the Bow River in Edworthy Park.  Pop into Angel's for an ice cream afterwards.
6-Go for a swim

We don't have a ton of outdoor pools in Calgary but the ones we have are a great way to stay cool when it's hot outside.  It's only 5$ for 90 minutes of swim time, just book online and show up when it's your time to cool off.  I'm a big fan of Bowview but I might be biased because I used to live within walking distance.
7-Go see a movie

But not just any movie, head to Canyon Meadows Theatre and relive your youth by watching Mrs. Doubtfire on the big screen.  It's only $5 for an admission ticket and you get to watch all those movies you didn't have time to see in  the last few months.
8-Watch some pro basketball

The Calgary Surge are playing their first playoff game this Sunday at Winsport, get your tickets online, prices start at $45 per ticket and I can assure you that the atmosphere will be electric!
Have a wonderful long weekend and enjoy the warm weather and all the fantastic experiences this city has to offer during the summer season!
Connecting you to Calgary Summer fun