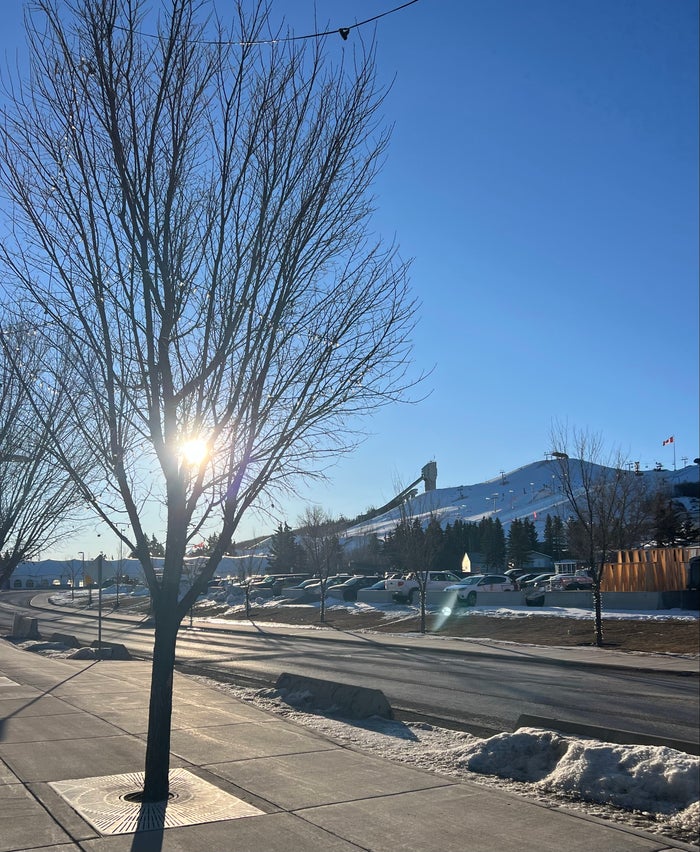 Calgary is a beautiful city in the winter, with plenty of activities and events to keep you entertained. Sometimes it's cold, sometimes it's REALLY cold but sometimes it's pleasant and tolerable so it's best to just find a way to deal and get out and enjoy it!  Why is it the best?  Well, that's because we really have it ALL,  right here in the heart of Alberta! We're only a stone's throw from the mountains, we get enough snow but not too much, we have cold weather but also Chinooks so we get the chance to thaw every once in a while so winters out here can be a ton of fun!  They didn't select Calgary to host the 88 Winter Games for nothing.  Here are some things to do in the winter in Calgary:
1. Skiing and Snowboarding: Winsport is right in the city and offers a great learning hill for new skiers and snowboarders, it's also a great way to spend a winter day. Also, with the Rocky Mountains just a short drive away, you can hit up several ski resorts in the area, including Nakiska which is the closest mountain and one of the most popular with young families as it's a fantastic learning mountain. Sunshine, Mt. Norquay, and Lake Louise are not too far beyond that and are some of the best skiing mountains in the world.
2. Skating: There are several outdoor skating rinks in Calgary, including refrigerated rinks at the University District and Olympic Plaza. Most communities and larger parks will also have a rink including Bowness Park and North Glenmore. These rinks are free to use and are open from late November to late February or as long as the cold weather allows.
3. Winter Festivals: Calgary is home to several winter festivals, including Glow & Chinook Blast. Many community associations will also host their own winter festivals including Edgmont and Westgate. You can also taste some maple taffy on ice at the March Winter festival hosted by the L'Association Canadienne Française de l'Alberta's Calgary chapter.
4. Winter Sports: If you're looking for something a little more adventurous, there are plenty of winter sports to try in Calgary. You can try your hand at ice climbing, cross-country skiing, snowshoeing, or even dog sledding. Many of the City of Calgary golf courses will offer you the chance to cross-country ski in the winter months, check out Shaganappi in the south or McCall Lake in the north.
5. Sledding needs to be on your list! With tons of hills all across the city, there's sure to be a spot where you can safely glide down and feel that rush of adrenaline and cold air on your face only to run back up and do it all over again.
No matter what you choose to do in the winter in Calgary, you're sure to have a great time. With plenty of activities and events to keep you entertained, Calgary is a great place to be in the winter.  If you have a crystal ball, try and plan your outings when there's a Chinook, they will be much more enjoyable. 
Keeping you connected to Calgary  Winter fun
---Claire