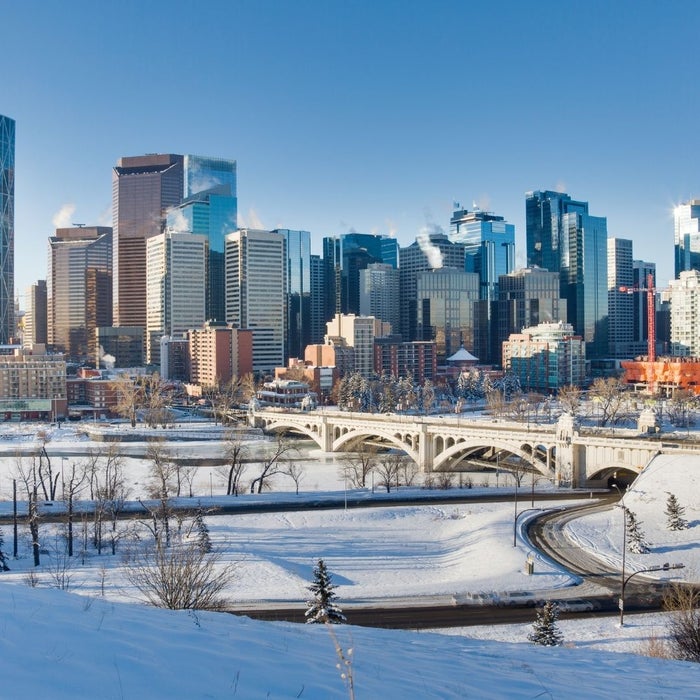 It's winter, it's cold, getting colder but alas it is Calgary and this is just part of our city's charm. With a young family, I'm always trying to find creative ways to keep kiddos busy, happy and active and develop an appreciation for our climate.
While winter in Calgary is super unpredictable, we tend to seek a balance between indoor and outdoor activities but we've gotten in the habit of being outside so I'm trying to find unique ideas to have fun, be healthy and enjoy these pandemic ridden winter days. Here's a bucket list of things I'm hoping to tick off as we work our way through these winter days.
1. Pick up a coffee, hot chocolate, and or a cookie from Analog and take a stroll through Prince's Island Park. Calgary has so many beautiful bridges, maybe take some pictures and learn about them as you walk.
2. East village river walk! Grab a little something to go from Sidewalk Citizen and head East, crossover into St. Patrick's Island and discover this hidden gem in the heart of the city.
3. Volunteer! Head to the Propellus website and find something you can do from home, outside or even in your car that could help or assist someone who might need a helping hand.
4. Go sledding! It's fun for all ages and is the perfect activity right now with all the snow and mild temperatures. The city has some "official" spots but honestly, there's so many hills that you can just hop on and slide down. Just make sure you do it safely.
5. Go skating. Seems obvious. Don't have skates? No problem! You can rent them on site at Bowness and Olympic Plaza. Head there after work and go for a skate.
6. Go skiing! With the downhill resorts at capacity most days, why not try the cross-country variety. You can rent skis at the Calgary Outdoor centre and there are spots in and around Calgary where you can just "go for a ski".
7. Want to go to the mountains, get some fresh air but not feel like you're trying to park at the Chinook in December (any other year). Head to the Kananaskis Pomeroy! You can easily find parking, grab take out from their restaurant and walk the grounds, they have a fantastic paved trail with spectacular views. They also have a lovely skating rink open to the public that is hardly being used. If you need a leisurely mountain getaway with minimal people, this might be it.
8. Get a list of Calgary's best parks and choose a handful to discover, you'd be surprised at how different they are and a winter day walk is never wasted time. Try Carburn Park, Baker Park, Griffiths woods, North Glenmore or the Weaselhead. You might encounter some other groups of people but there's tons of room to spread out. If this doesn't motivate you, find a scavenger hunt and snap some photos of your discoveries.
9. Outdoor fire! Find a firepit in the city, or at any day-use provincial parks nearby and bring some firewood, hot dogs, s'mores ingredients, and some hot chocolate and enjoy being outdoors.
10. If you have kids, take them playground hopping. There's a website dedicated to playgrounds in Calgary called the Calgary Playground review and this site gives you the ins and outs for all things playgrounds in and around YYC. You can find the best parks for little kids, bigger kids, special themes, or structures. It's all detailed on this site! Pick one playground per quadrant and discover the city while you're at it. There's so much to discover in Calgary.
I hope this has been helpful! There's only about 6-8 months of winter left so enjoy it while you can.... of course, this is not true (hopefully) but seriously if this has been helpful in any way, I'd love to know what you picked and where you went. Stay healthy, stay warm and be keep smiling! It helps!